Next Board Meeting:
 
Board Meeting
Tuesday, September 26 at 9:00 a.m.
Scott City, Kansas
Wheatland Electric members may contact any of the board of directors by calling the main office at 1-800-762-0436 or 620-872-5885.
Mark Arnold - Board President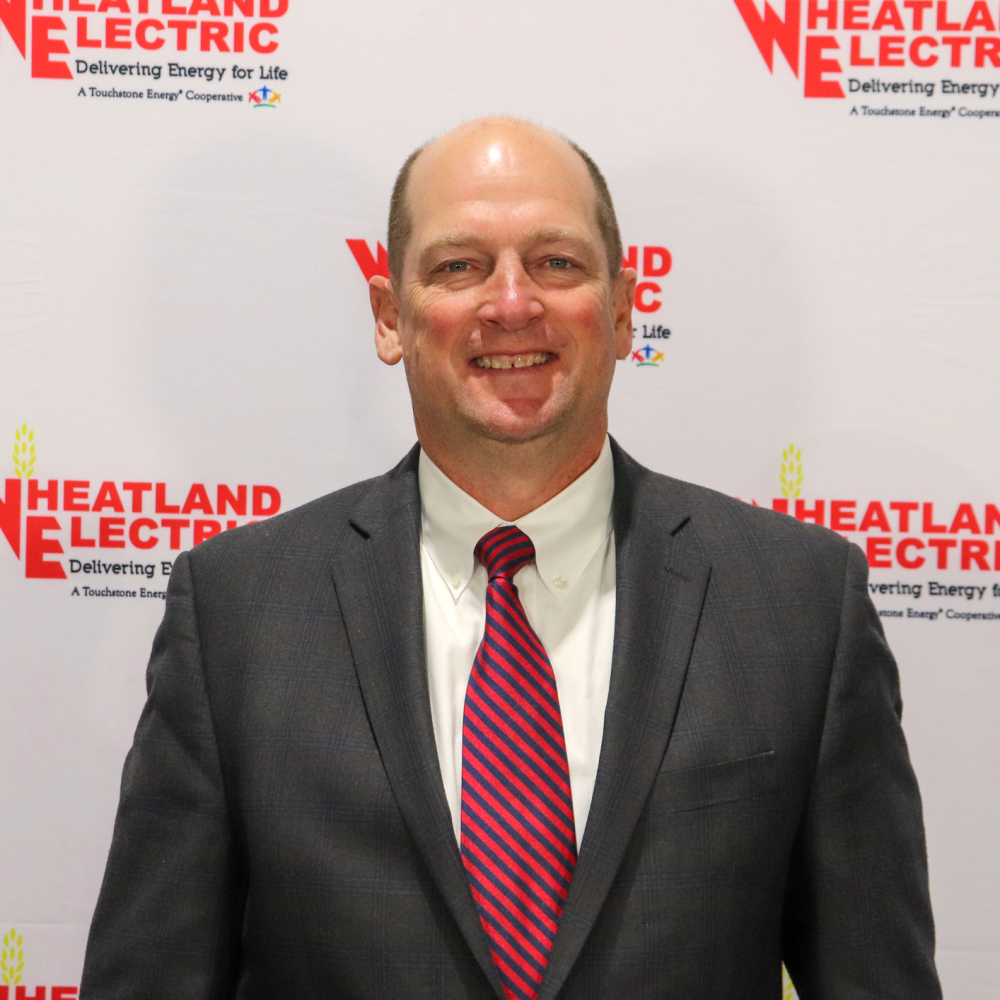 District 7 - Harper
Mark Arnold was elected to the Wheatland Board of Trustees in 2016 to represent District 7, which included part of several south-central Kansas counties including Sumner, Harper, Kingman, and Sedgewick.  
Mark grew up in north central Oklahoma and has been living in his district since 2004. He earned his bachelor's degree from Oklahoma State University and started working in banking shortly after. Currently, Mark serves as the CEO for the Stock Exchange Bank of Caldwell.
In addition to his banking career, Mark has spent time serving as a  Member on the Braman (OK) school board, Kay County Cattleman's Association -  Director from 1997-2000 , and junior high basketball and football coach at Caldwell Schools from 2008-2010.  Mark also has previous electric cooperative trustee experience through Kay Electric Cooperative in Blackwell, OK.
From 2007- 2019, Mark served as the Mayor of Caldwell. 
Mark is the current Wheatland board representative for Kansas Electric Cooperatives, Inc., the electric cooperative's statewide association. 
Mark's wife Leslie works at the Caldwell Regional Medical Center, They have two daughters and two granddaughters. For fun Mark likes to hunt, fish, golf, as well as travel and attend sporting events.
Josh Young -Vice President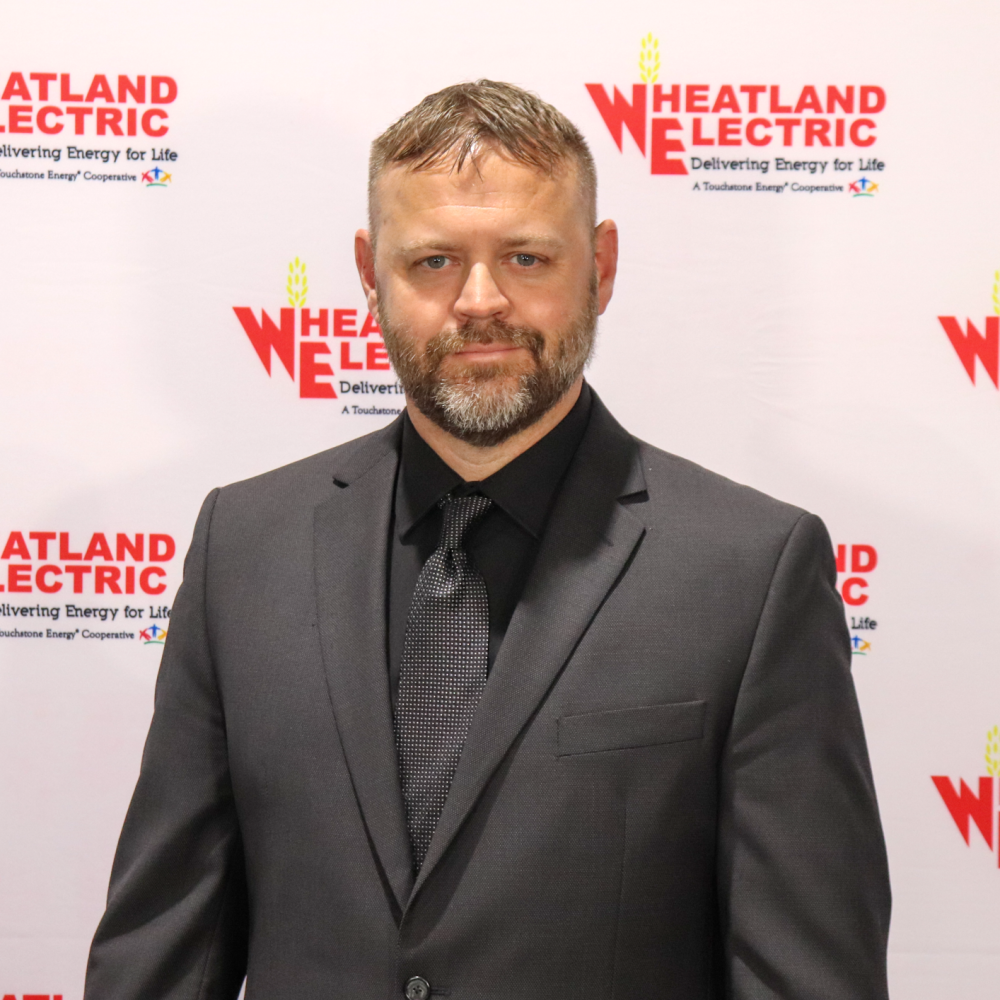 District 2 - Leoti
Josh Young is a lifelong resident of western Kansas and represents District 2, serving members in Wichita and Wallace Counties.
After graduating from Greeley County High School in 1996, he attended Fort Hays State University before moving back to Tribune where he worked in his family's feed yard/ farming operation.  In 2005, Young began his banking career in Garden City and then moved his family to Leoti in 2009, where he is currently a senior vice president with Security State Bank.  along with his passion for agricultural finance, he and his wife, Courtney, an elementary school teacher and Garden City native, own and operate JCY Inc., a a storage unit facility in Leoti.
Young has served as a member of the Wichita County Hospital Board, Wichita County Park and Recreation Board, served on Wichita County Economic Development and is currently serving his second term as a member of the Wichita County USD 467 Board of Education.  He has also served as a volunteer coach for Wichita County recreation football and basketball and is a member of the Christ Covenant Evangelical Presbyterian Church.
Young currently serves as the Board's treasurer and is WEC's alternate representative for the Sunflower Electric Power Corporation Board.  He has achieved his Credentialed Cooperative Director Certificate from the National Rural Electric Cooperative Association and is currently working on his Board Leadership Certificate.
The Youngs have three sons, the oldest currently attending Fort Hays State University.  In his spare time, he enjoys traveling, coaching, spending time with friends and family and attending his children's sporting events.
Stacey Addison-Howland - Secretary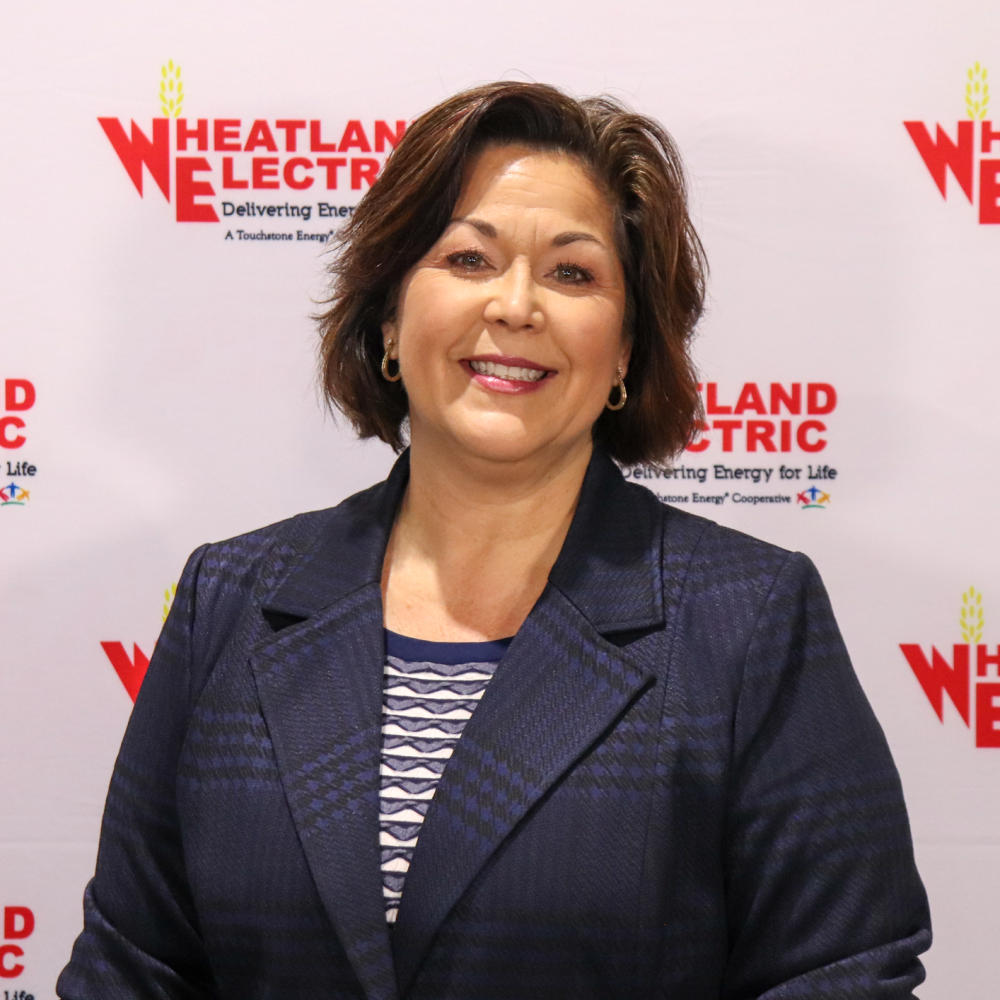 District 4 - Syracuse
First elected in 2016, Stacey Addison-Howland represents District 4. District 4 is a mostly rural district based in Syracuse.  It services a large agricultural base that includes family farms, cow/calf operations, and several dairies and feedlots.
Stacey earned her bachelor's degree from Fort Hays State University and has previously taught high school business classes and worked in banking as a loan review officer and as part of an internal audit team.  She has been an agent for the Farmers Union Midwest Agency in Syracuse for nearly 18 years, serving Hamilton County and the surrounding area.
Stacey brings with her a wealth of experience from sitting on internal bank committees and numerous community boards including the Tamarisk Golf Course and Hamilton County Chamber of Commerce. 
Since joining the Wheatland board, Stacey has completed all three levels of board certification.  She is a NRECA Credentialed Cooperative Director and has earned both her Board Leadership Certificate and Director Gold Certificate.
Her goal is to be a voice for the small communities in Wheatland's service area and to be responsive to member concerns and employee safety.
Stacey and her husband Mike have two daughters. 
They enjoy attending concerts, golfing and camping.
John Kleysteuber - Treasurer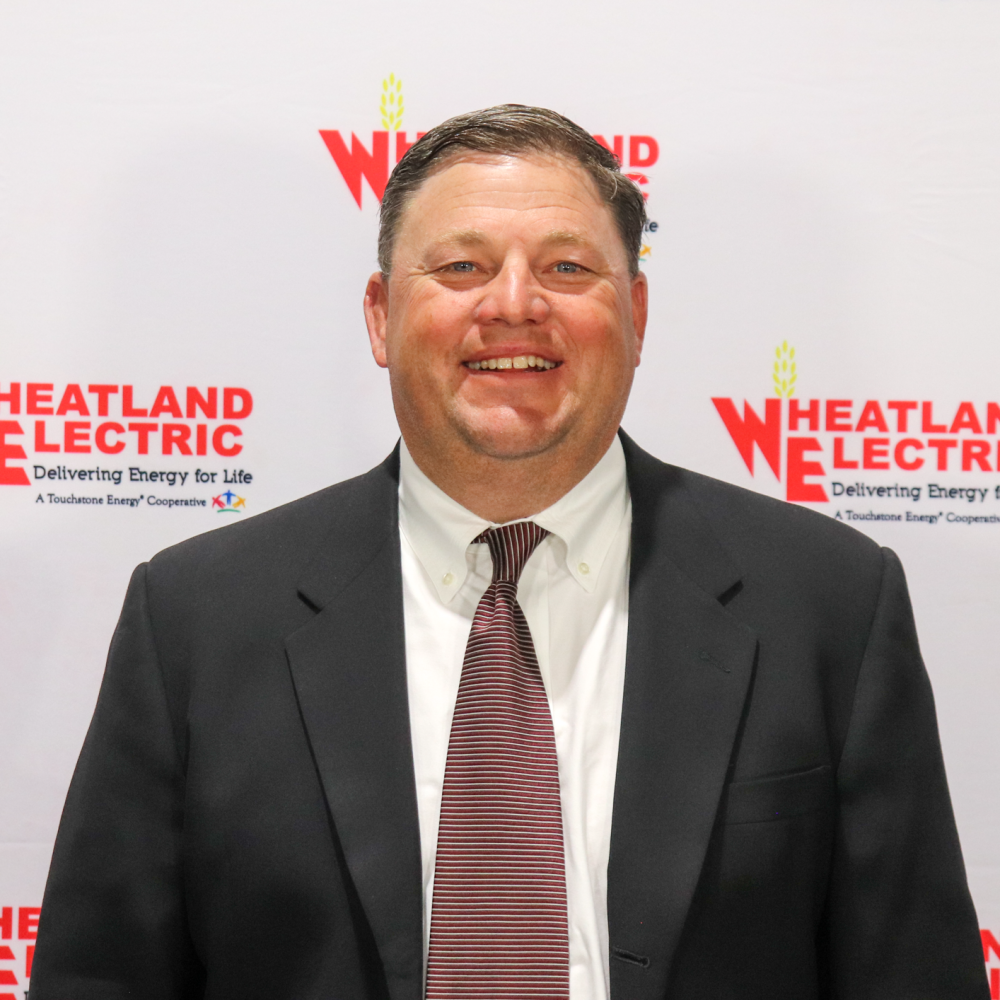 District 5 - Finney County
In 2016, John Kleysteuber was elected as a Wheatland trustee for District 5. District 5 comprises most of Finney County, eastern Kearny County, and a small portion of northwest Gray County.
Growing up in Garden City, John attended Garden City High School, Garden City Community College, and received his bachelor's degree in agribusiness from Kansas State University.
After college, John moved back to Garden City where he joined his family's irrigated farming and cattle operation. 
John and his wife Marisa enjoy watching their boys Cooper and Colin participate in activities. When the family wants to escape for some weekend fun, they like to go water skiing, snowboarding, or taking the UTV to the mountains.
Lynn Freese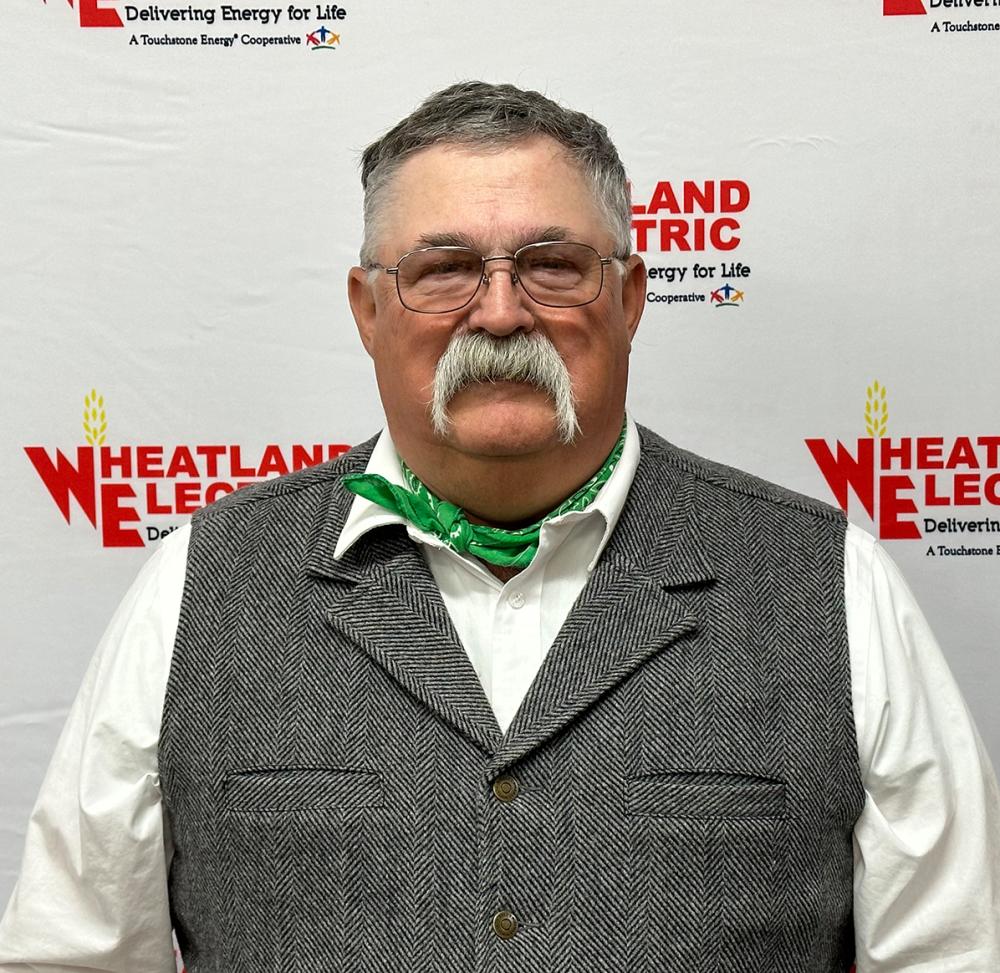 District 1 - Scott City
Lynn Freese was elected in 2023 to represent the Scott City District - District 1.
Lynn was raised on a farm in Oklahoma and graduated with a Bachelor of Science in agriculture from Oklahoma State University.  He relocated to Scott County in 1979 to join Wheatland Electric, first serving as the energy conservation director.  During his 38-year career with Wheatland, Lynn served in various capacities including supervisory roles in consumer services, internet technology, broadband and water. He was a Class 4 water system operator.  Lynn retired in 2017 to become a full-time rancher and continues to operate a cow/ calf operation in Scott County today.
Lynn has been a part of many community organizations including serving on the Finney County Rural Water District for ten years and has previously umpired little league baseball.
Lynn and his wife Lori have three adult children and one granddaughter.  In addition to enjoying time with family and ranching, Lynn is an avid fisherman, hunter and knife crafter.
Mike Thon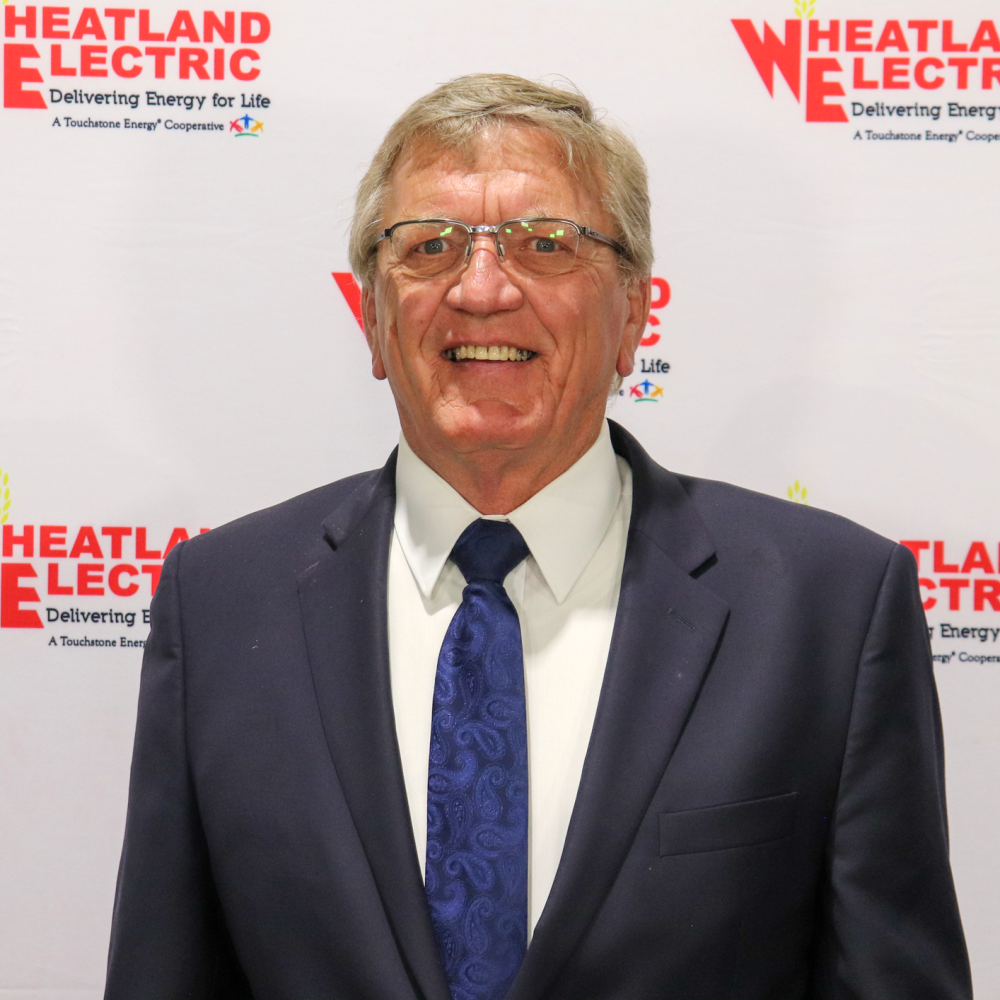 District 3 - Tribune
Mike Thon was elected in 2017 and represents District 3 in Wheatland's service territory. A mostly rural and agricultural based district, District 3 includes all of Greeley County and the cities of Tribune and Horace, Colorado.
A life-long resident of Tribune, Mike has been the owner and president of Ron's Oil Co Inc. since 1991. Mike has served on several community boards including the Greeley County Board of Education for 12 years, and 16 years on the Board of Supervisors for the Greeley County Commission.
Mike has two children and enjoys attending sporting events in his spare time. His son Drew is currently the Athletic Director at Garden City High School. Some of his other favorite activities include traveling and woodworking.
Wes Campbell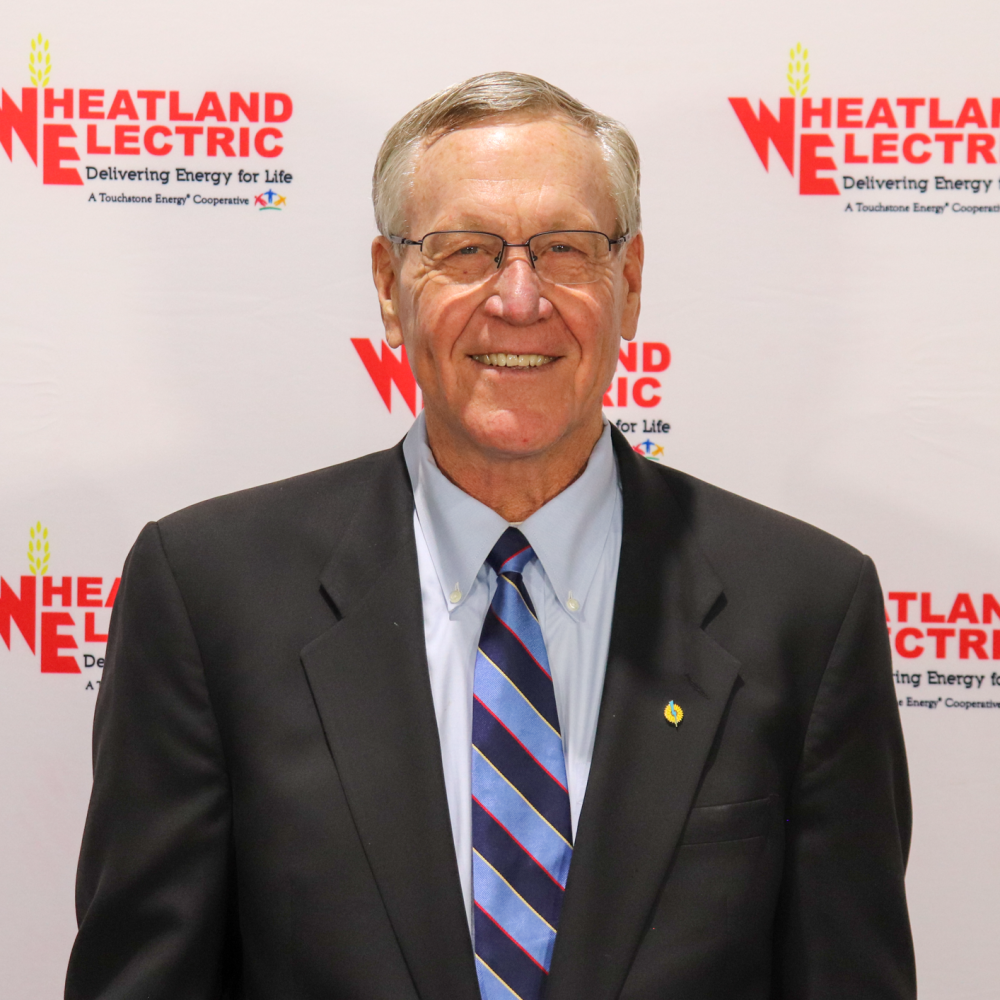 District 5 - Finney County
Wes has been representing district 5 as a trustee for Wheatland Electric since 1997. District 5 comprises most of Finney County, eastern Kearny County, and a small portion of northwest Gray County.
He currently serves as President of the Sunflower Board of Directors. He grew up on a farm near Friend, Kansas (located between Garden City and Scott City). For the past 40 years Wes has owned and operated a farm and cattle feedyard.
After graduating from Scott Community High School, Wes attended the University of Kansas where he earned his bachelor's degree in Personnel Administration. He currently serves as a community bank director and has earned accreditation as Certified Cooperative Director from the NRECA.
Wes and his wife Debbie have three daughters and one grandchild. They enjoy spending as much time as possible with family. In his spare time, Wes likes to travel, read, fish, and follow KU sports.
Bob Hiss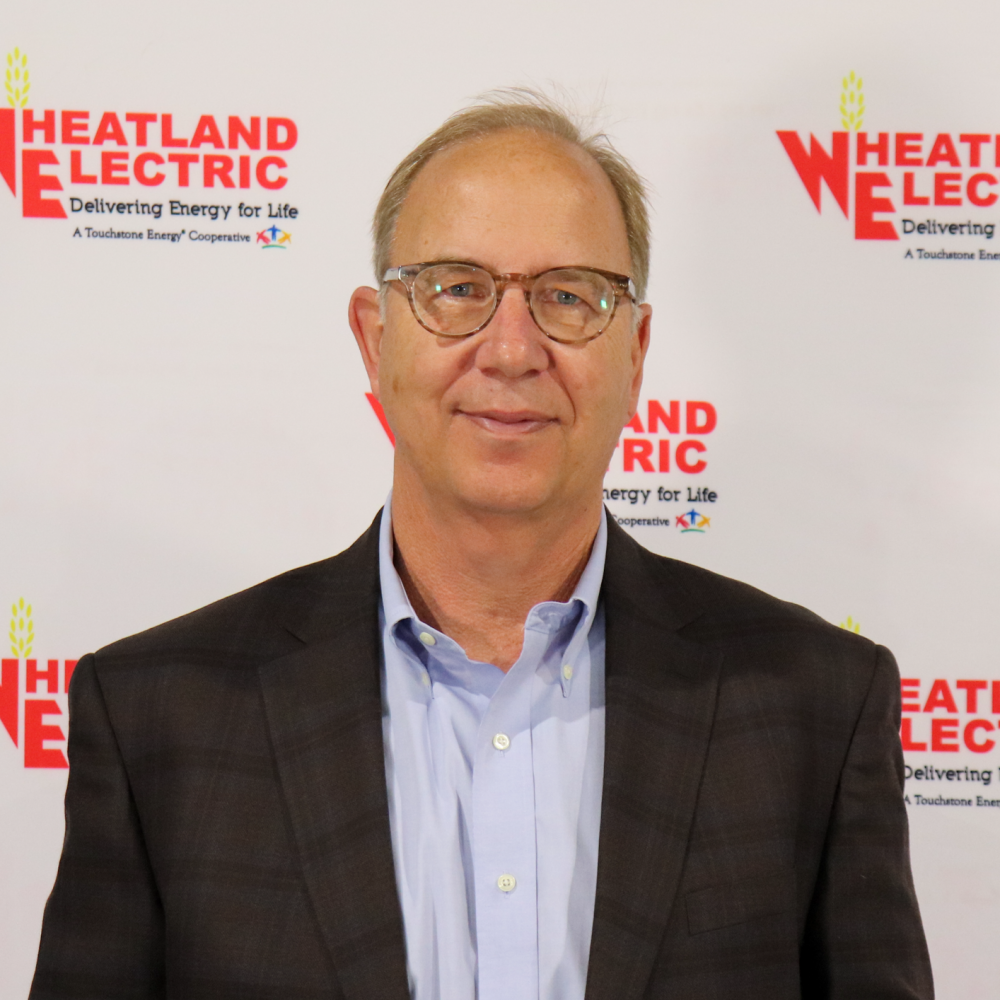 District 6 - Great Bend
Bob Hiss was elected in 2008, shortly after the Aquila acquisition that brought Great Bend (District 6) into the Wheatland Electric family. Bob is a lifelong resident of Great Bend where he grew up and operated a dairy farm. He attended Kansas State University where he received a bachelor's degree in agricultural economics. In 1986, Bob decided to pursue his passion for investment planning and became a financial advisor for Waddell and Reed.  Bob was then promoted to division manager and managed 14 offices with 49 financial advisors in western and central Kansas.   In 2003, after nearly 20 years in financial investment and management, Bob went into private practice in order to give clients a more unique and rewarding experience.  A couple years later his son Matt joined the firm that is today known as Legacy Financial Solutions with offices in Great Bend, Atwood and Wichita.  
Bob and his wife Patsy raised their two older sons in Great Bend and are currently raising a grandson as well as enjoying spending time with their three other grandsons.  He has been involved as a leader in the Boy Scout program, USD 428 Foundation board member, a board member and treasurer for the First Christian Church, a board member of the Kansas Christian home and a multitude of volunteer positions.  
Bob is involved in coaching both basketball and football. He also enjoys remodeling projects, outdoor activities, barbecuing and attending sporting events.  He is also an instrument rated private pilot.
John Sullivan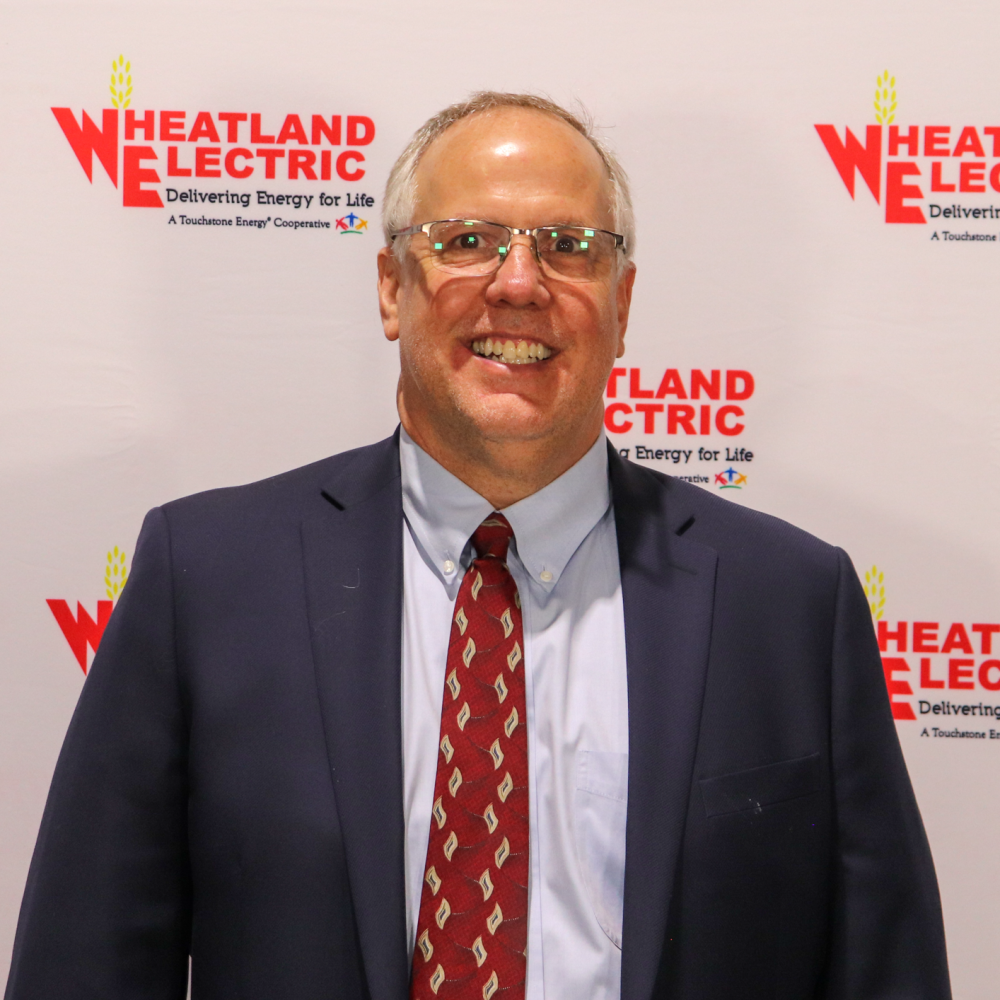 District 6 - Great Bend
John Sullivan was appointed to the board in 2021 to fill a vacated seat by an outgoing trustee. He represents District 6 in Wheatland's service territory, which encompasses the City of Great Bend and was acquired by our cooperative through the Aquila acquisition in 2007.
John, a native of Logan, KS, is the chief financial officer of the Great Bend Cooperative Association and has lived in Great Bend for 24 years. Prior to that he was a certified public accountant for Lindburg Vogel, where he audited local grain cooperatives. A graduate of Western Illinois University, where he also played college football, John received his bachelor's in business finance. He also holds a bachelor's degree in accounting from Wichita State University.
John has served as an ambassador for the Great Bend Chamber of Commerce for 13 years, is currently a member of the Great Bend Optimist Club and past president, has served as treasurer for a local Boy Scouts troop for 12 years, and has also served as a PTA president for a local Great Bend school.
He is married to his wife, Annie, of 33 years, and together they have two children: Erin and Blake. In his spare time John enjoys spending time with his family hiking in the mountains and biking around Barton County enjoying the countryside.
Dustin Stansbury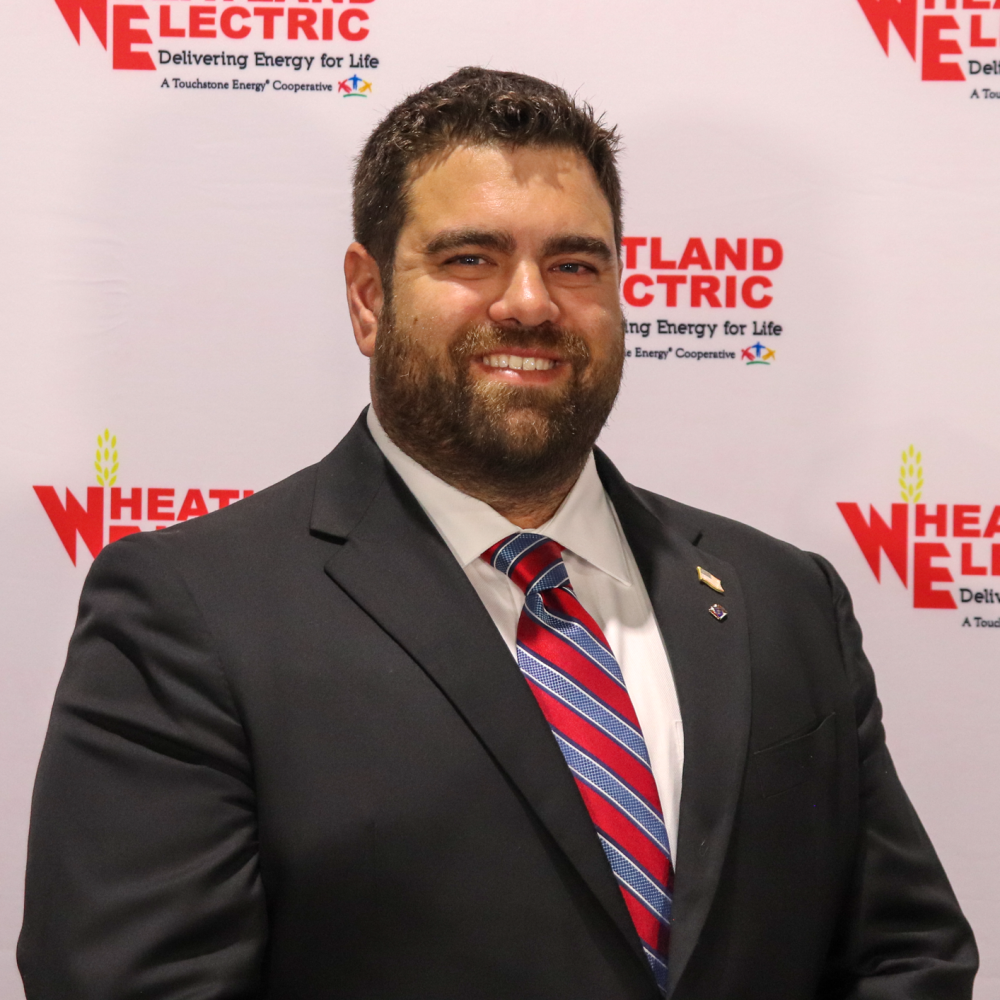 District 7 - Harper
Dustin Stansbury, a native of Argonia who graduated from Chaparral High School in Anthony, is a small business owner from Harper. 
Stansbury has owned and operated DLS Underground LLC, with his wife, Lindsey, since 2014. 
The small business owner employs almost two dozen employees, and the company specializes in the placement of underground utilities in commercial, industrial, and residential areas. 
District 7, which represents a region of south-central Kansas that includes communities across Sumner, Harper, Kingman and Sedgwick counties, was acquired by WEC following the 2007 Aquila purchase. 
Stansbury has three daughters: Cabela, 8; Kimber, 6; and Sterling, 4.
The family enjoys traveling to the lake on the weekends and attending ball games together.