3rd Annual Co-Ops Care Charity Golf Tournament
Friday, Sept. 17, 2021 at The Golf Club at Southwind 
Our 3rd annual Co-ops Care Charity Golf Tournament will be held Friday, Sept. 17, 2021, at The Golf Club at Southwind in Garden City, KS. We are excited to see you again at this charity event which serves as our kickoff event for Cram the Van!

Cram the Van is our annual food drive, now in its eighth consecutive year. This annual campaign benefits nearly a dozen local food banks that power our communities across our southwest and south central Kansas service territory. Every year we Cram the Van FORE a great cause! 
Register yourself or your team now or sign up to sponsor this worthy cause. 
Thank you for your support, and see you in September! Questions? aconine@weci.net or 620-275-4563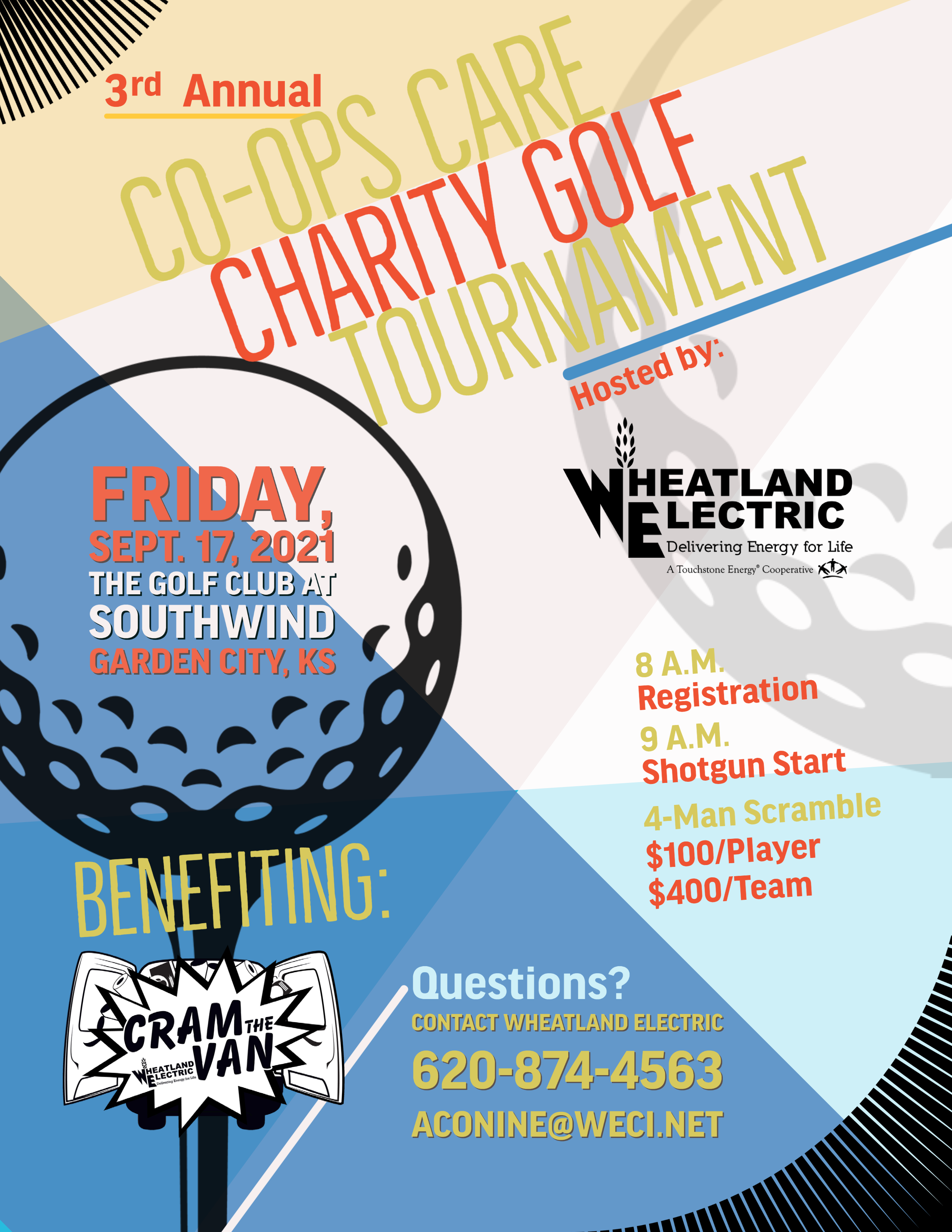 The Golf Club At Southwind
Co-ops Care Sponsorship Levels
Includes one complimentary player and sponsor name featured:
In event promotional materials
In social media promotions
On sponsor banner at the event
Includes two complimentary players and sponsor name featured:
On event promotional materials
In social media promotions
On sponsor banner at the event
On a tournament hole sign
Includes three complimentary players, an exclusive hole sponsorship (sponsor name and logo signage at tee box), and sponsor name or logo featured:
On promotional event materials
In social media promotions
On sponsor banner at the event
On a tournament hole sign
Includes four complimentary players, choice of the meal OR beverage cart OR competition hole sponsorship, and sponsor name or logo featured:
On event promotional materials
In social media promotions
On sponsor banner at the event
On a sign at the beverage cart, or in the food area, or at a competition hole