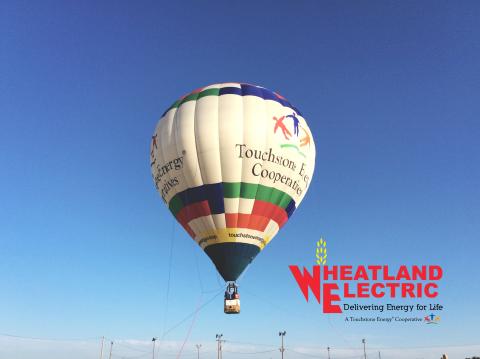 The Touchstone Energy hot air balloon is returning to Wheatland territory in Western Kansas! Touchstone Energy's hot air balloon team last came to Wheatland's territory in 2017 for the Deerfield Summer Celebration. The balloon quickly stole the show, as people lined up throughout the day for their chance at a free tethered ride.
Serving our public by sponsoring events that allow our rural communities to flourish is central to our mission as a cooperative. Join us on Saturday, May 25, 2019, for Run, Drive, Fly to Lakin at the Kearny County Airport. Those in attendance can expect a day full of fun activities and entertainment including tethered hot air balloon rides, airplane rides, live music, farmer's market, a golf tournament, a 5k race and much more! What's even better?! This event is FREE of admission!
Come support your community, enjoy the entertainment, and participate in the fun activities! We hope to see you there!
• Inflation of the Touchstone balloon and tethered rides are weather dependent