News release prepared by: Alli Conine, 620-874-4563 or aconine@weci.net
FOR IMMEDIATE RELEASE-
June 11, 2020 – (Great Bend, KS)
Compass Behavioral Health Receives Wheatland Electric Sharing Success Fund $1,000 Grant
Wheatland Electric Cooperative, Inc. announced today that its Sharing Success Fund, managed by the Scott Community Foundation, has awarded a $1,000 grant to Compass Behavioral Health to be used to help purchase weighted blankets for the Haven House in Garden City. With the $1,000 grant from Wheatland, Compass Behavioral Health and the Haven House can purchase a total of ten weighted blankets to accommodate children of different ages and body weight.
The Haven House in Garden City shelters children ages 0-17 who are in crisis, in foster care, or in police protective custody to cover the time from initial custody until the first court hearing. The facility is licensed and approved by Kansas Department of Health and Environment and has contracted with the Kansas Department for Children and Families.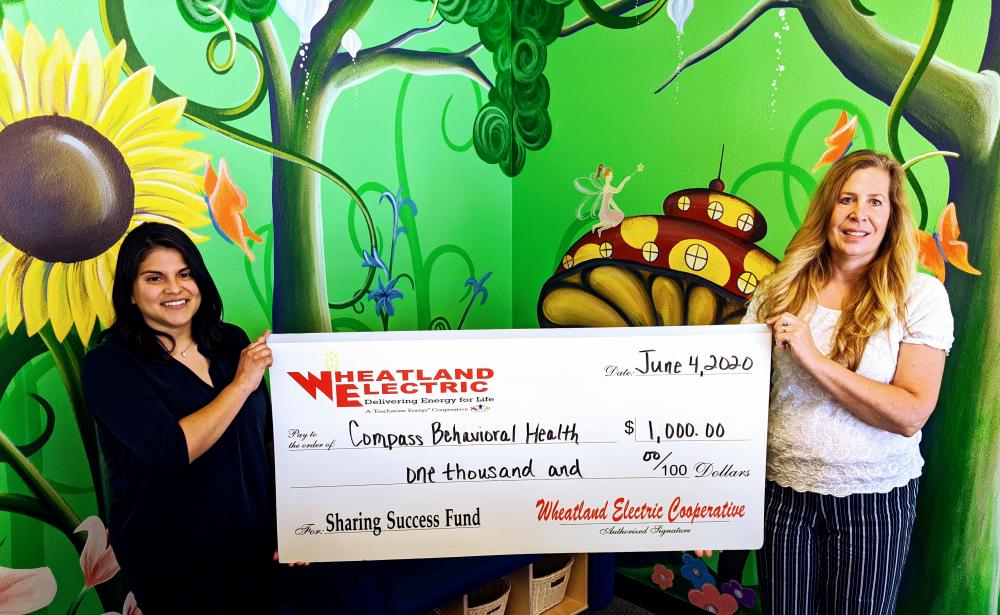 The Scott Community Foundation began formally accepting applications for grants from the Wheatland Electric Sharing Success Fund from non-profit organizations on December 1, 2012.  Wheatland Electric and CoBank have each increased their contribution amounts to the fund over time. Beginning in 2020, each organization will donate $10,000 annually.  The program will continue to run until the funds are exhausted.  Non-profit groups interested in receiving funding from the Wheatland Electric Sharing Success Fund should contact Alli Conine, Manager of Member Services & Corporate Communications, at 620-874-4563 or aconine@weci.net.
Wheatland Electric Cooperative, Inc., a member owned distribution cooperative headquartered in Scott City, KS, was established in 1948 as a distribution and power cooperative, in the state of Kansas.  Today, Wheatland Electric serves more than 33,000 electric meters in 19 different counties and maintains over 4,000 miles of distribution power lines across Western and South Central Kansas.  Together, with the help of our members, Wheatland Electric is committed to building a better and stronger rural America.  For more information about Wheatland, visit www.weci.net.