Many may have seen that New Orleans Saints quarterback, Drew Brees, and his wife committed $5 million to the State of Louisiana for relief efforts to fight against the COVID-19 pandemic.  In his social media announcement of the financial commitment, Brees also encouraged his followers to "all do our part, maintain hope, and get through this together."
Becky Lopez, Sheena McKinley and Megan Sneath, all Consumer Service Representatives (CSRs) in Wheatland's Garden City office did just that.  When Wheatland Electric was without hand sanitizer, in a time when chemical companies, breweries and perfumeries took to making a vital commodity in short supply, so did the Garden City CSRs. 
After a quick search the trio discovered the Quick Gel recipe, isopropyl alcohol and aloe vera gel.  On a normal day these two ingredients would be easy to find, however the run on isopropyl alcohol and aloe vera gel comes as public health experts recommend that Americans use do-it-yourself methods to make up for nationwide shortages of antibacterial products.   
Becky, Sheena and Megan were able to divide and conquer through each retail store in Garden City and purchase enough isopropyl alcohol to make fifteen 2-quart jars.  Unfortunately, aloe vera gel was sold out so the three got creative.  They purchased aloe vera leaves from the local Mexican and Asian markets and filleted them like a fish.  The gel from one leaf was enough to make 2 jars of sanitizer.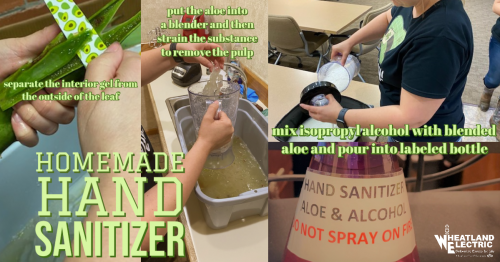 "We are fortunate that we have employees like Becky, Sheena and Megan who think outside the box.  Because of their efforts each office in Wheatland's service territory now has hand sanitizer to help keep our employees as well as members safe and protected," said Bruce W. Mueller, Wheatland's General Manager.
The Garden City CSRs weren't looking for recognition, they saw a need and came up with a solution.  During this time of uncertainty one thing is certain, Becky, Sheena and Megan should be applauded for their efforts.