Wheatland Electric Cooperative, Inc. has announced that its Sharing Success Fund, managed by the Scott Community Foundation, has awarded a $1,000 grant to the Dolly Parton's Imagination Library (DPIL) fund, in care of the United Way of Central Kansas (UWCK). To celebrate National Book Month, UWCK is partnering with Barton County Young Professionals (BCYP) to host an online fundraiser this October. BCYP and UWCK are seeking $30 donations from the public, which is the average cost to send monthly DPIL books to a local child for one year. The $1,000 grant from Wheatland was added to a pool of funds from five area businesses that will allow the first 250+ children sponsored by a $30 donation to be matched.
DPIL is a book gifting program that offers free books to children from birth to age five in participating communities within the United States, United Kingdom, Canada, Australia, and Republic of Ireland. Over 25,000 books have been delivered to children in Barton and Pawnee counties since the DPIL program was launched locally in 2012. The DPIL program delivers these books directly to children's homes at no cost to the family. In September 2020, free books were delivered to 550 local children.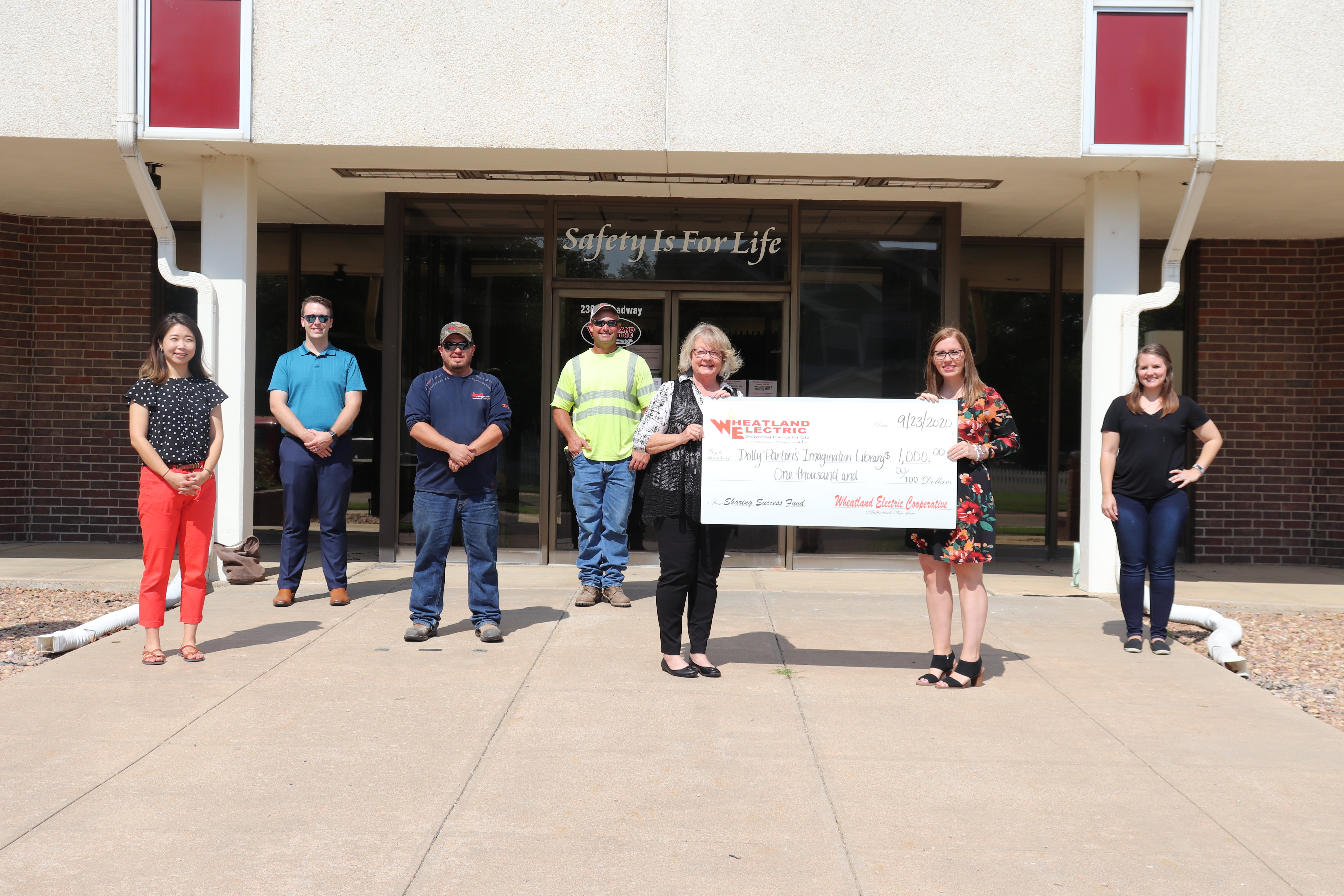 About Sharing Success Funds
The Scott Community Foundation began formally accepting applications for grants from the Wheatland Electric Sharing Success Fund from non-profit organizations on December 1, 2012. Wheatland Electric and CoBank have each contributed $7,500 this year to the fund and $5,000 in years past. The program will continue to run until the funds are exhausted. Non-profit groups interested in receiving funding from the Wheatland Electric Sharing Success Fund should contact Alli Conine, Manager of Member Services & Corporate Communications, at 620-874-4563 or aconine@weci.net.
About Us
Delivering Energy for Life – Wheatland Electric Cooperative, Inc., a member owned distribution cooperative headquartered in Scott City, KS, was established in 1948 as a distribution and power cooperative, in the state of Kansas. Today, Wheatland Electric serves more than 33,000 electric meters in 17 different counties and maintains over 4,000 miles of distribution power lines across western and southcentral Kansas. Together, with the help of our members, Wheatland Electric is committed to building a better and stronger rural America. For more information visit www.weci.net.