August means it's time to head back to school — the perfect time to GET SMART about energy savings in your home!
Thanks to the widespread availability of wireless technology, smart home gadgets have become more affordable and easier to use than ever before. These devices are great because they automate tasks that you would normally handle multiple times a day.
Dialing in on the Savings
Reaching for the dial to adjust your thermostat is one key example. Because heating and cooling costs inside your home can account for about half of your energy bill, reducing energy use and cutting costs usually starts here. The right thermostat settings could yield energy savings between 8%-15%. Smart new technology makes it easier than ever before to reach those results!
Smart thermostats are Wi-Fi enabled and can be controlled remotely through a tablet, smartphone, or even voice control in some cases. Some models use multiple sensors to monitor temperatures in various parts of the home for more balanced heating or cooling, track user temperature preferences, and use the data to optimize your heating and cooling schedule. There are even systems out there designed for complex multi-stage systems which will control heating, cooling, and dehumidifier and ventilation systems, too.
The Nest 3rd Generation Learning Thermostat and Ecobee4 are the most popular on the market right now. Depending on the features and capabilities, these devices are usually priced between $100 and $250.
That might seem like quite the price tag for fixing something that's not broken. However, users can recoup that money in energy cost savings, not to mention the added benefits of convenience, user-friendliness, and sophistication when it comes to your home's heating and cooling. Both thermostats can interact with other smart devices and utilize geofencing, which uses your phone's GPS to determine if you're home and then automatically adjusts the temperature for you.
For those looking for fewer bells and whistles, the Honeywell Lyric T5+ is another popular option, priced around $100. While it can't sense your presence or learn your schedule, it does have the geofencing feature and can interact with other smart home devices, such as turning on lights when you arrive or leave home.
If you're interested in controlling your thermostat with your voice or an app, or in being hands-off and letting it learn your habits, you should consider a smart thermostat. To narrow your choices, factor in smart features, price and attributes that matter most to you, such as color, size or style, and make sure the chosen product supports your HVAC system, too.
Ultimately, the smart thermostat is a good investment that can help you save energy and money — making you one smart cookie!
Smart Lighting is a Bright Idea
First thing's first — energy-saving LEDs are the way to go. They come in a variety of colors and brightness levels and last 15-25 times longer than incandescent bulbs!
Next, level up your LED lighting with smart lighting systems, which offers not only cost and energy savings, but mood and security enhancements, too.
Smart lighting can begin with as simple a move as purchasing smart bulbs, the most popular brands of which include Philips Hue and C by GE. Smart bulbs require a smartphone, tablet, or other home automation hub to operate. Once installed, you can turn your lights on and off remotely, set timers, adjust brightness and even color in some cases, and create lighting schemes depending on the time of day or task you have planned.
A step up from smart bulbs are smart outlets, smart strips, and smart light switches. Smart light switches also allow you to remotely control your lights, but in this case that includes your basic, non-smart bulbs.
If your home is powered by a lot of lamps, consider smart power strips or outlets, which are quick and easy ways to start saving money while making your home more energy-efficient. That's because many smart power strips cut power off to save energy since they're able to detect when a device is in standby mode.
All in all, if you're serious about smart lighting, consider a smart hub home system, since setting up a coordinated lighting schedule is easier from a single interface. You can then set the mood in individual rooms or the whole house, and for security purposes, implement settings that gives your home a lived-in look — day or night.
Monitor the Meter with SmartHub
Not ready to invest in smart, home technology? Good news! There's already an easy-to-use smart tool available to you, for free!
As a Wheatland Electric Cooperative member, you can review your energy usage — down to the hour — to make smart, cost-saving decisions via SmartHub. This mobile-ready tool is available on any of your internet-connected devices, no matter where you're physically located — at home or abroad. It's fully integrated with our cooperative, delivering account information, mobile payments, and more in a safe and secure environment.
To make smart decisions about your energy use you need data. SmartHub allows you to see how outdoor temps affect your heating and cooling use, compare usage between months, and set usage markers, thresholds, and alerts.
In addition, you'll never miss a bill with bill reminders, and you'll stay connected to our digital and social platforms, where we're constantly sharing energy-saving tips and tricks for every season.
As always, if you have questions about your SmartHub data, our consumer service representatives are only a phone call away, and we're here to address your concerns, discuss possible cost-savings, and much more.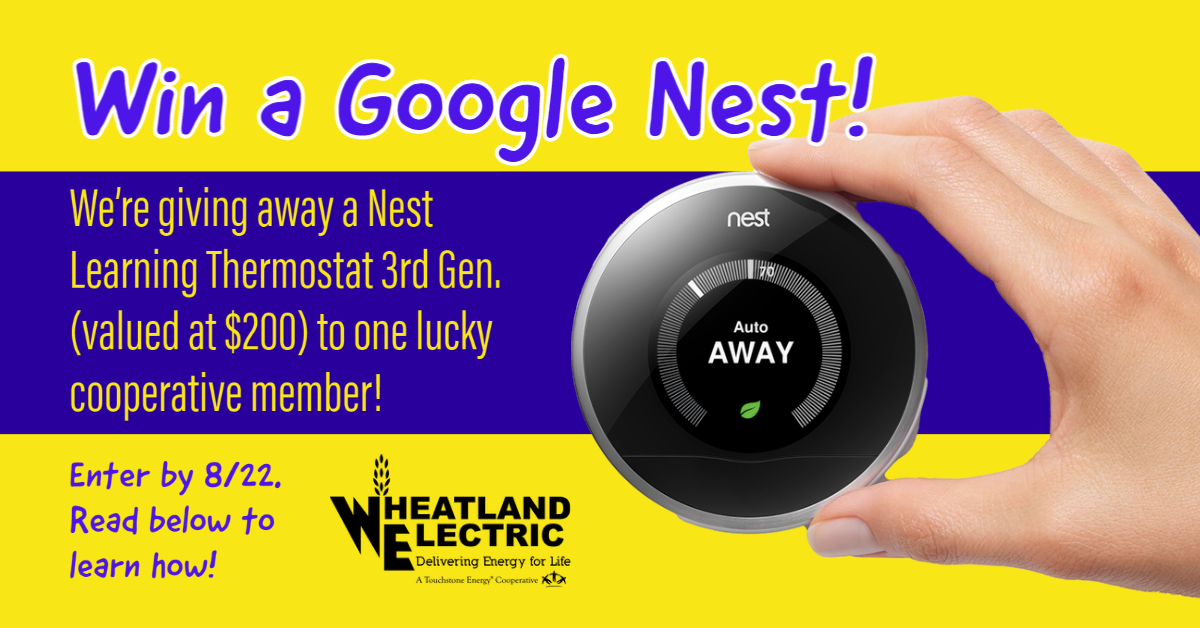 Win a Google Nest!
The Google Nest Learning Thermostat 3rd Generation is a highly sophisticated machine — that could be all yours! We're giving away this smart thermostat, valued at $200, to one lucky cooperative member. 
To enter, email sdonecker@weci.net or write to Shajia Donecker, social media specialist, Wheatland Electric, 2005 W. Fulton St., Garden City, KS 67846, by Aug. 22, 2021. Include your name, address, telephone number, and a request to enter the "NEST THERMOSTAT GIVEAWAY."
One winner will be selected at random and announced the week of Aug. 23 on our website and social media channels.