Great Bend, KS – Wheatland Electric Cooperative, Inc. announced today that its Sharing Success Fund, managed by the Scott Community Foundation, has awarded a $1,000 grant to Great Bend Alive.
Great Bend Alive, Inc. is a non-profit offshoot of Great Bend Economic Development, created to bring more quality-of-life amenities to downtown Great Bend. One of the groups more popular events is the Friday night entertainment district on Forest Avenue which takes place on the final Friday of each month April through November.
The Sharing Success grant will be used to help fund the community mural art project at Great Bend Alive Plaza. The project is a "paint by the numbers" style mural, with local volunteers helping to paint Art Alley which is the alley located between the 2000 block of Forest and Lakin Aves. in Great Bend. The alleyway artwork will have a clear protective coating and the paint is rated for vehicle traffic.
Wheatland's Great Bend Cram the Van event is taking place at this month's Final Friday, September 30 from 5 to 9 pm on Forest Ave. Bring a cash or can donation and join us to watch the live streamed Great Bend High School varsity football game against Dodge City, play the 50/50 raffle, register for prizes, and join in the fun while helping to restock the Community Food bank of Barton County.
The Scott Community Foundation began formally accepting applications for grants from the Wheatland Electric Sharing Success Fund from community-based organizations on December 1, 2012.  Wheatland Electric and CoBank have each contributed $10,000 this again year to the fund. The program will continue to run until the funds are exhausted. Since 2012, the Sharing Success Fund has made $125,000 available to community-based organizations and projects across Wheatland's service territory.
Community based organizations interested in receiving funding from the Wheatland Electric Sharing Success Fund can apply online at https://www.weci.net/sharing-success-program. Questions should be referred to Alli Conine, Director of Member Services & Corporate Communications, at 620-874-4563 or aconine@weci.net.
About Us
Our Mission: Delivering Energy for Life – Wheatland Electric Cooperative, Inc., a member owned distribution cooperative headquartered in Scott City, Kans., was established in 1948 as a distribution and power cooperative, in the state of Kansas. Today, Wheatland Electric serves more than 33,000 electric meters in 14 Kansas counties and 3 Colorado counties and maintains over 4,000 miles of distribution power lines across southwest and central Kansas and eastern Colorado. Together, with the help of our members, we are committed to building a better and stronger rural America. Visit www.weci.net for more information.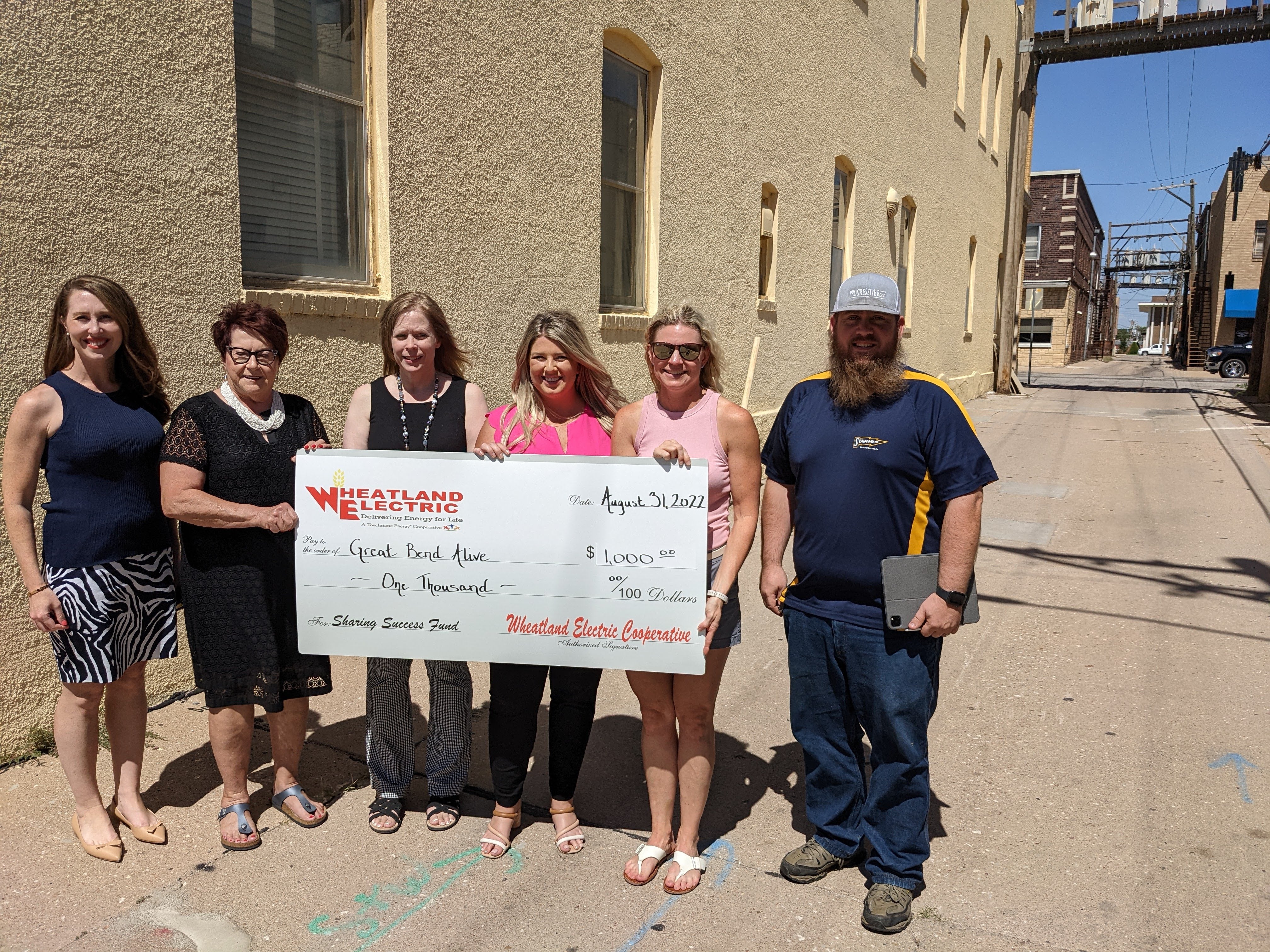 Wheatland Electric member services and key accounts manager Mary Hoisington (third from left) presents a $1,000 Sharing Success grant to Great Bend Alive represented by (left to right), Dena Hiss, Allene Owen, Sara Hayden, Great Bend economic development president, Jessica Milsap and Ryan Fairchild. Grant funds will be used to help fund the community mural project at Great Bend Alive Plaza.