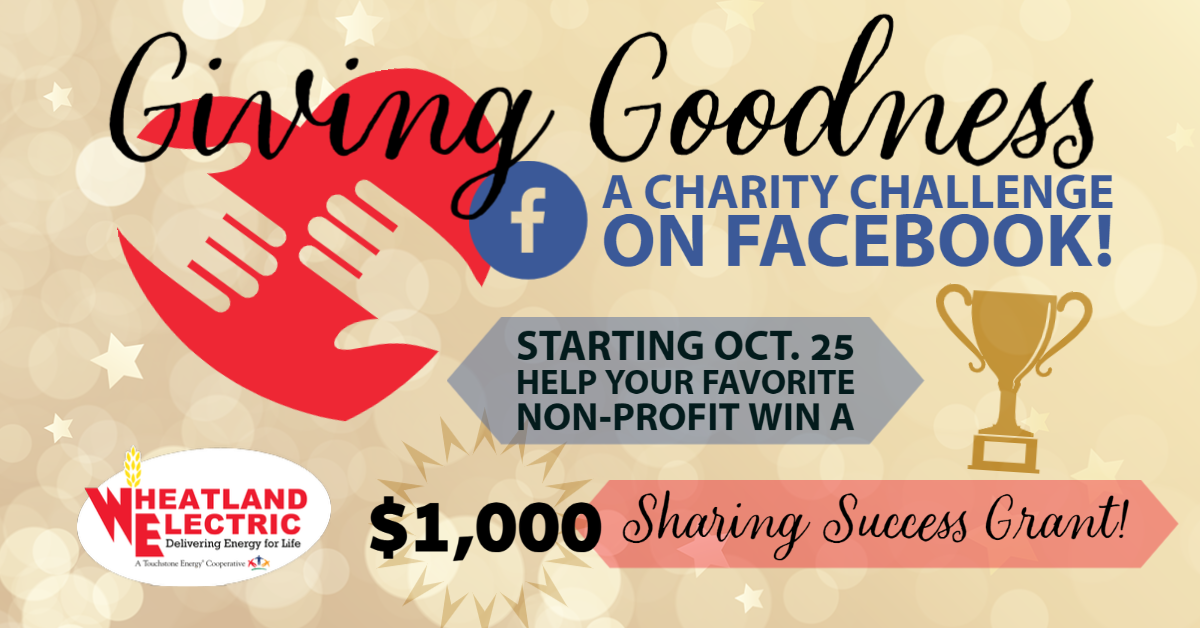 Our Giving Goodness charity challenge on Facebook is back!
Help your favorite organization win a $1,000 Sharing Success grant from Wheatland Electric Cooperative!
The charity challenge run entirely on our Facebook page begins 8 A.M. CDT on Monday, Oct. 25 and will run through 7:59 AM CST on Friday, Nov. 12, 2021.
In this tournament of charities, cooperative members like you can vote for your favorite organization (or other community-based charitable cause) to win a $1,000 grant from our Sharing Success Fund!
Now more than ever and with the upcoming holiday season upon us, we recognize the significance of helping one another, giving thanks, and paying it forward.
That's because cooperatives like ours are governed by core principles, including one of our most important: concern for community. This principle encourages us to work toward the sustainable development of our communities through policies supported by our members.
Democratic member control is another of our guiding principles, and during this public challenge on Facebook, we're transferring the decision-making power to cooperative members like you!
To help your favorite organization win, visit our official Facebook page starting Oct. 25, and tag your favorite organization in our Giving Goodness post.
The organization must serve cooperative members within our service territory and must not have already received a Sharing Success grant during our 2021 grant cycle. (For a complete list of Sharing Success recipients from the current cycle who are ineligible, see below.)
Members should not only tag their favorite organization but also tag their friends and family to garner more "LIKES."
These "LIKES" will count as individual votes toward the nominated organization. Voting on this first round will run through Nov. 1 at 7:59 AM CDT.
Starting Nov. 1, four eligible organizations with the most "LIKES" during the previously held round will advance to our FINAL FOUR, where they will square off in this bracket-style tournament. Members can once again vote by LIKING their favorite contender though Nov. 8 at 7:59 AM CST.  
The TOP TWO organizations from our Final Four round will advance and battle for the GIVING GOODNESS TITLE starting Nov. 8.
Voting during this CHAMPIONSHIP ROUND will continue through Nov. 12, ending at 7:59 AM CST. Members are once again asked to root for their favorite organization and rally fellow fans to their cause.
As a friendly reminder, "LIKES" must be on OUR ORIGINAL POSTS to count towards the voting process.
Our Giving Goodness WINNER will then be announced on Nov. 12!
Questions? Contact Shajia Donecker, Social Media Specialist, at sdonecker@weci.net. Help us share the "GOODNESS" during this "GIVING" season and head to our Facebook page to get started!
2021 Sharing Success Grant Recipients
The following organizations have already received a grant from our Sharing Success Fund during the 2021 cycle and are therefore not eligible for this year's Giving Goodness challenge:
Lil Feet Daycare in Harper, KS 
Magic's H.O.P.E. Animal Assisted Therapies & Learning in Finney County, KS
Cottonwood Extension District in Great Bend, KS
Core Community in Barton County, KS
Harper County Dept. on Aging & Transportation in Harper, KS 
Greeley County Library in Tribune, KS
Scott County Fire Department in Scott City, KS 
Golden Rule Preschool in Scott City, KS 
Clara Barton Hospital Foundation in Great Bend, KS 
Hamilton County Swimming Pool Board in Syracuse, KS
City of Leoti in Leoti, KS
Revolution Fellowship in Anthony, KS