SCOTT CITY–Wheatland Electric is excited to share that we'll be hosting our annual Fall Finale on Saturday, Oct. 30, 2021, in Scott City.
Wheatland Electric has hosted our annual Fall Finale in Scott City since 2014, our first Cram the Van year, to celebrate the end of another successful food drive season.
This year's Cram the Van motto – "Yes, WE Can!" – recognized our renewed commitment to this effort, to power local food pantries across our southwest and south-central Kansas service territory.  
We'll be at the Spencer Flight and Education Center, 300 S. Mesquitte Rd. in Scott City, from 11 AM to 3 PM. Every year, our Fall Finale features multiple family-friendly activities including pumpkin decorating, face painting, hayrack rides. This year, we'll even have a helicopter candy drop scheduled at 3 PM.
All attendees are encouraged to bring a cash or can donation in exchange for a lunch meal (choice of hamburger or hot dog, chips, and a cookie). All donations during our Fall Finale will benefit Hope's Closet in Scott City.
Can't attend? Cash and can donations are still being accepted through the end of October at all of Wheatland's local offices. 
Monetary donations can also be made online on our website, and all online donors will be entered for a chance to win a Traeger Tailgater Grill (value: $500).
Donors can specify the agency or food pantry they wish to donate to when making their online donation. Questions? memberservices@weci.net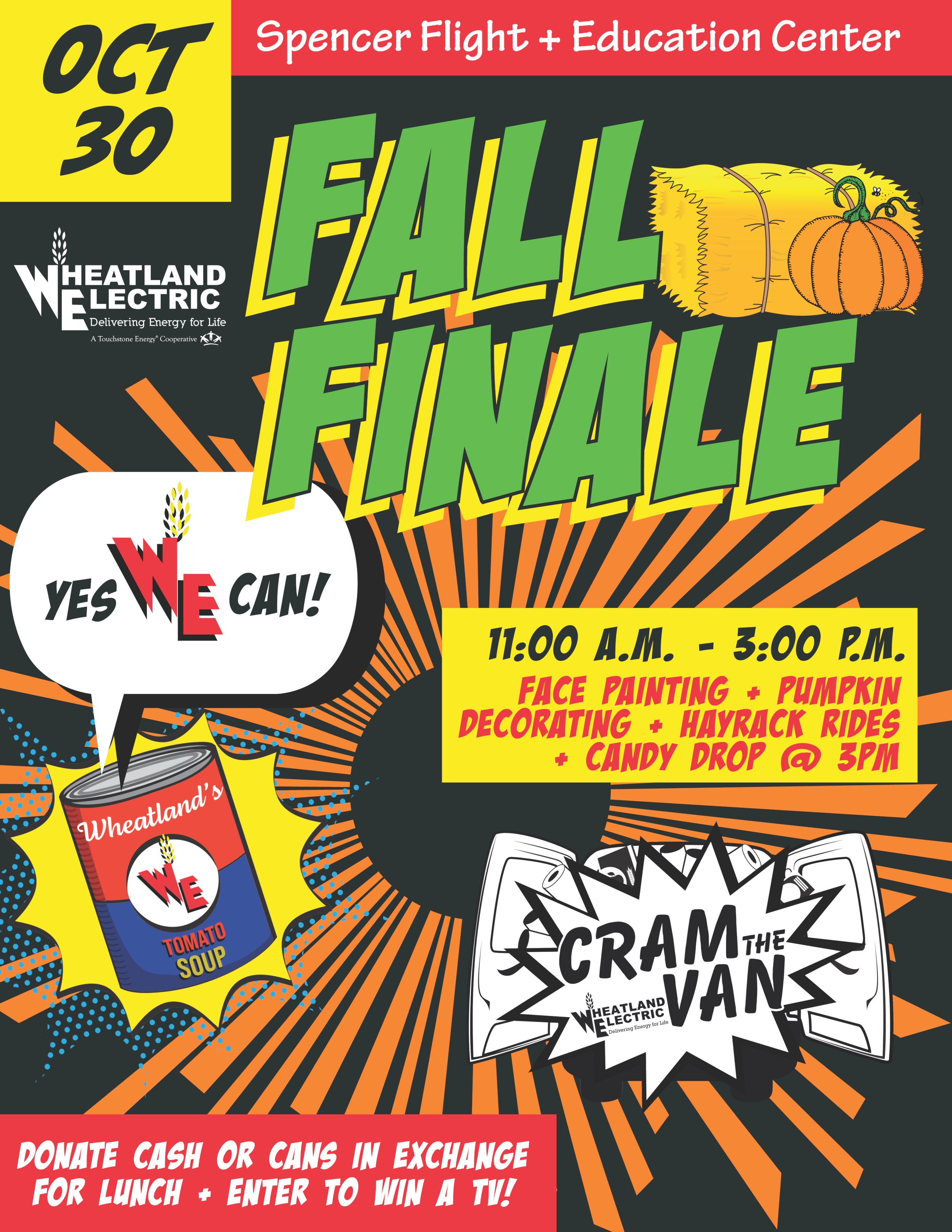 About Cram the Van
Every fall since 2014, Wheatland Electric has hosted community gatherings, school competitions, and other events to collect donations for local food banks across our service territory.
The annual food drive is coined "Cram the Van" thanks to our signature fleet vehicle: a red, extended passenger van used to collect and deliver donations.
Over the past seven years, and thanks to the generosity of the communities we serve, Wheatland has been able to facilitate the collection of more than 63 tons (127,733 lbs.) of food for local food banks across southwest and southcentral Kansas.
All contributions are always delivered to the community food bank where the donations are made. Visit our website for more information.