SCOTT CITY–Wheatland Electric is excited to share that we'll be hosting our annual Cram the Van food drive at the Scott City Middle School football game on Thursday, Oct. 14!
We're headed into 2021 with a renewed commitment to the communities we serve – "Yes, WE Can!" is our motto this year, and we're hoping to make it another record-breaking year!
We'll be at the Scott City Middle School football game at Darner Field starting at 4:30 PM on Oct. 14, 2021, to collect cash and can donations for Hope's Closet, 309 Main St., run by the Scott City Ministerial Alliance.
Everyone is welcome to stop by and pick up a meal (choice of hamburger or hot dog, chips, and a cookie) in exchange for their cash or can donation. Food donations made during the middle school football game can be counted toward the local school competition, if a donor so chooses. 
During the same week, from Oct. 11-15, middle school students in USD 466 schools will also be collecting canned goods and other non-perishable food items for a friendly school competition by grade. The grades with the most donations (per student), as determined by school officials, will win prize money from Wheatland totaling $500!
In addition, Wheatland will also be grilling for members at the Boo Bash with Beaver Backers on Oct. 28 at Scott City Middle School. Those in attendance can receive a hot dog or hamburger meal in exchange for a cash or can donation to the local food bank.
Can't attend? Donations will also be accepted during the months of September and October at all of Wheatland's local offices.
Monetary donations can also be made online, and all online donors will be entered for a chance to win a Traeger Tailgater Grill (value: $500).
Donors can specify the agency or food pantry they wish to donate to when making their online donation. Questions? memberservices@weci.net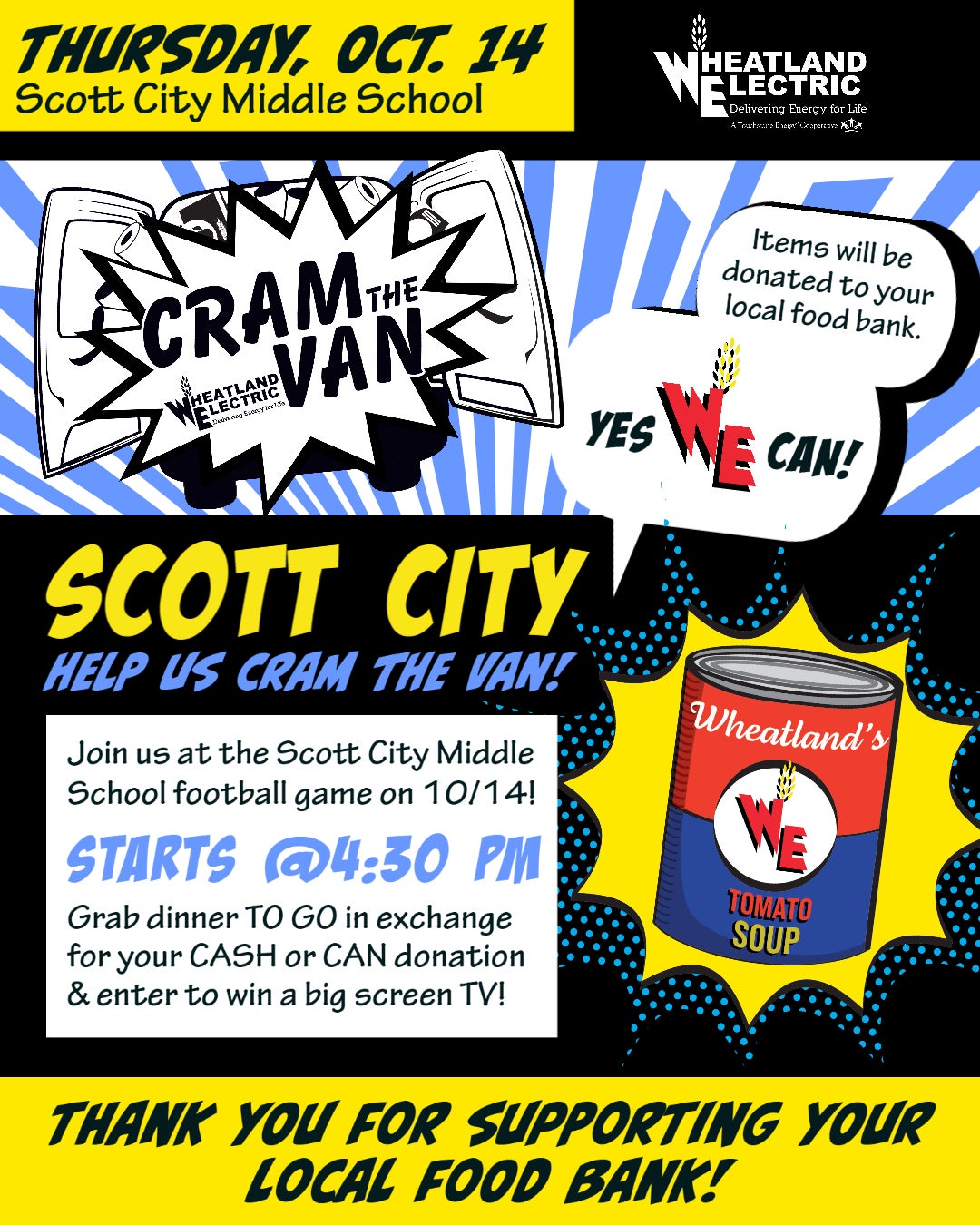 About Cram the Van
Every fall since 2014, Wheatland Electric has hosted community gatherings, school competitions, and other events to collect donations for local food banks across our service territory.
The annual food drive is coined "Cram the Van" thanks to our signature fleet vehicle: a red, extended passenger van used to collect and deliver donations.
Over the past seven years, and thanks to the generosity of the communities we serve, Wheatland has been able to facilitate the collection of more than 63 tons (127,733 lbs.) of food for local food banks across southwest and southcentral Kansas.
All contributions are always delivered to the community food bank where the donations are made. Visit our website for more information.